GENERATION X
A sonic sculpture soundsystem presented in Paris in September 2008

GENERATION X – Elena Montesinos – The Montesinos Foundation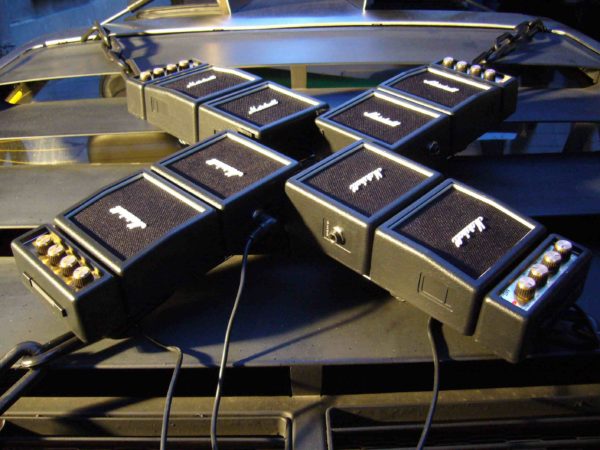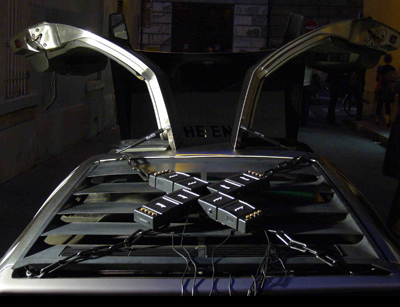 The Marshall amps can be modulated in different shapes. This is the White Trash version, shaped like an X and installed at the back of the Delorean car / Galerie J Paris. The soundtrack featuring Sidney Stucki and Living Dead Boys is a satanic-like reversed tune moaning endlessly.
Curated and courtesy GALERIE J, Raphael Julliard, Paris 2008.
---
ARTWORKS
BONFIRE OF POVERTY, MAXIMA LVX, ARMAGEDDON, SERVEZ-VOUS, LIBERTAS LIBERTAS, HUMAN RIGHTS KARAOKE, WEED AMBASSY (DIE UNKRAUT BOTSCHAFT), ANTI, YOU WIN, THIS IS NOT A LOVE SONG, BORDERLINE, IN LOVING MEMORY, ARM WRESTLING, PA-PA-PAP-PAP, SOUND OF THE SYSTEM, INFINITY, GOLDEN SHOWER, YOUTRIBE, COUNTERFEIT FOR PAGANS, XXX, ALIEN NATION, SAFT, HAPPY MONDAY, ERRATUM, DOMINUS PROVIDEBIT, HOW TO BUILD AN EMPIRE, OIL OIL OIL, GENERATION X, PICKPOCKETS, FORTUNA, I WALK THE LINE, CAMO SOUND, PIMP MY RIDE, NUMBER OF THE BEAST, 15 MINUTES OF SHAME, LOVE IT.
---

THE MONTESINOS FEDERATION