HAPPY MONDAY
Video installation shown in a school class, 8 minutes, 2005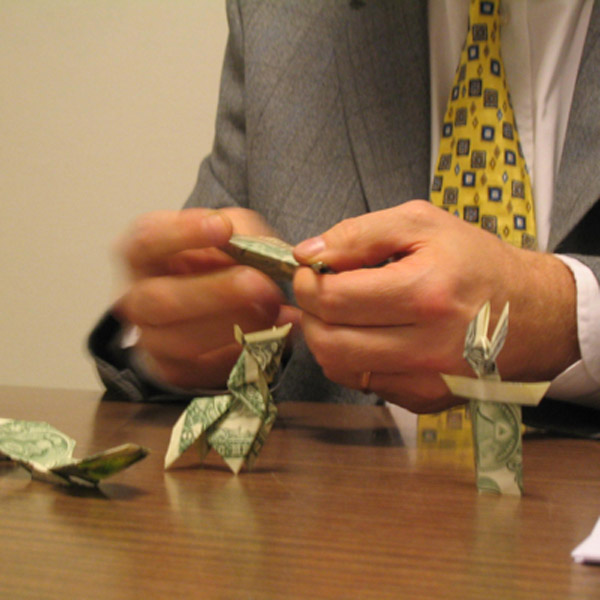 HAPPY MONDAY – Elena Montesinos

HAPPY MONDAY – Elena Montesinos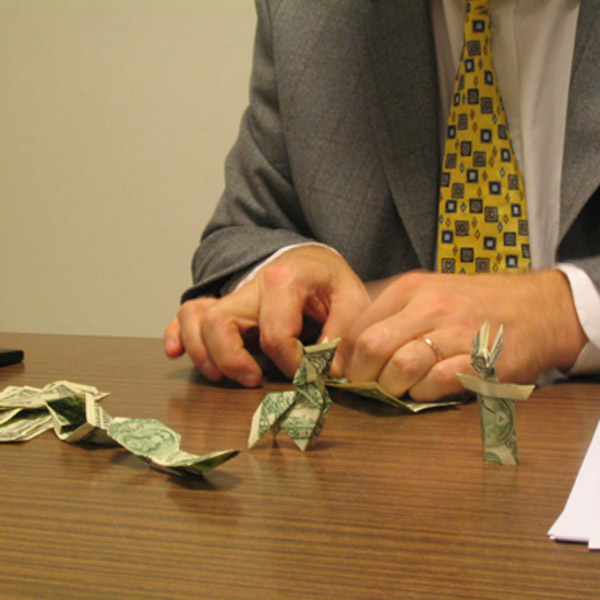 HAPPY MONDAY – Elena Montesinos
In this video, a banker starts creating a small origami zoo on his desk by folding dollar bills and after this rather poetic "burn out" simply leaves the office forever.
Video edit : Laure Schwarz – Soundtrack : Water Lilly & POL and Plastique de Rêve.
OFFICE WORLD, OFS Cultural Space, Neuchâtel. Curated by Simon Lamunière, 2005.
---
ARTWORKS
LIBERTAS LIBERTAS, UNRELEASED, BONFIRE OF POVERTY, MAXIMA LVX, SERVEZ-VOUS, PA-PA-PAP-PAP, DIE UNKRAUT BOTSCHAFT, THIS IS NOT A LOVE SONG, ANTI, YOUTRIBE, YOU WIN, COUNTERFEIT FOR PAGANS, GOLDEN SHOWER, ARMAGEDDON, PIMP MY RIDE, XXX, SAFT, HAPPY MONDAY, ALIEN NATION, ERRATUM, DOMINUS PROVIDEBIT, HOW TO BUILD AN EMPIRE, BORDERLINE, PICKPOCKETS, ARM WRESTLING, INFINITY, FORTUNA, SOUND OF THE SYSTEM, GENERATION X, OIL OIL OIL, TMF STATIONERY, IN LOVING MEMORY, NUMBER OF THE BEAST, I WALK THE LINE, THE PARANORMALS, CAMO SOUND, 15 MINUTES OF SHAME, HUMAN RIGHTS KARAOKE, LOVE IT
---

THE MONTESINOS FEDERATION