Music and sound projects
Elena Montesinos performs "irritainment" music with the weirdest low-fi to hi-fi technologies under various nicknames and disguises.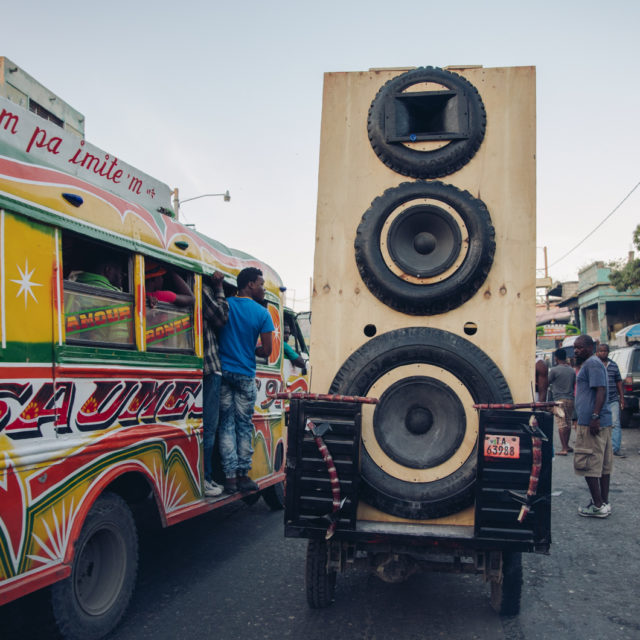 PA-PA-PAP-PAP – Mobile sound system and Paviyon Swis Party, Port-au-Prince, 2017
2022
AN EVENING WITH THAT GIRL AND THE HOMIES, video mashup and closing party with Maudite and Kebab Injection! Starring: Nathanael Esh, Timothy Leighton, Elena Montesinos (That Girl), Lea Pohlhammer, Sanctus Povitch. Multimedia event hosted by GO GO GO Festival, Le Grütli, Geneva
2021
MESSAGE IN A MACHINE, a dystopop track produced for Joyfully Waiting with Dr.Reverso, invited by N. Rebholz. Scroll down this page to listen.
NEVER GATE, shooting of the movie co-directed with JD Schneider at Villa Sarasin, Geneva (to be released in 2022)
I NEVER READ/ UNRELEASED GVA, Geneva's finest experimental musicians mashing up TMF's spirit! Live broadcast, Art-Basel, Basel
UNRELEASED MASHUP, live lecture of the UNRELEASED artist book edited by Pro Helvetia. Invited by D. Bernardi, featuring lectures by I. Languin, L. Pattaroni, C.H. Tatot. Live effects mashup by Sanctus Povitch. Maison Rousseau Littérature (MRL), Geneva
DEC 17TH, window performance as That Girl featuring The Wild Panthers and Nagi Gianni's mask. Curated by Art au Centre in conjunction with Aspasie and Planet 22, Geneva
THAT GIRL IS STRANGE, live mix broadcast, invited by Nut-Nut TV, Case à Chocs, Neuchâtel
2020
BIRTHDAY BASH, That Girl's birthday mix at Bongo Joe for Résiliences Sonores, broadcasted on Radio Vostok
THAT GIRL AT MOTEL RADIO, live broadcast on July 23rd, Motel Campo, Geneva
GET A NERVE! – IN THE HOUSE, Jeff Mills TR-909 surprise live headphone performance curated by TMF around Villa Sarasin, Geneva
THE PARANORMALS, two DJ's disguised as two dead rocking ghosts, spinning the spookiest records, Chez Jean-Luc, Geneva
2019
SOUND OF THE SYSTEM #3 "TRAUM", 2nd hand vinyl mix by That Girl for Reboot.fm, listen on Soundcloud
SÄHKÖ NIGHT – "They came from outer space" at Technoculture 2, booking cooperation with A. Laubscher, featuring Tommi Grönlund, Jimi Tenor (live) and DJ Sid at Blue Factory, Fribourg
GET A NERVE!, concerts curated by TMF, featuring Jean-Louis Costes, Oliver Chesler, Reverend Beatman, Jérémy Chevalier, Le Festival de L'Amour, ALDI Music Discount, Leen C, Flower Clock, Zolle, Villa Sarasin, Geneva
2018
BON BAGAY, voodoo parade and salt stencils, curated by MOS ESPA and Musée d'ethnographie de Genève (MEG), Geneva
2017
PA-PA-PAP-PAP, party at Swiss Pavillon, launched with Fabien Clerc and Frederic Post, featuring swiss, haitian and international artists, Ghetto Biennale, Port-au-Prince
LEGAL TENDER GROUND ZERO, Lucky Sunday money throwing in the backyard, event launched by the artist featuring extralucid sounds by Maudite & Fuxy Lady, Walden, Geneva
PUNKAHONTAS plays weirdo tunes with Ladybruce, La Guinguette, Paléo Festival, Nyon
THE MESS AGE IS THE MESSAGE, electro ritual and performance featuring The Horrorist, Opening ceremony of Electron Festival, Palladium, Geneva
2016
UNTIL THE LAST DANCE (San Dance Company), dance performance curated by Agustina Struenngmann with the San Keller crew at MANIFESTA 11 – What People do for Money – Reflections Pavillon, Zürich
2015
PUNKAHONTAS, music stolen from the Internet, La Bâtie at Alhambar, Geneva
PUNKAHONTAS, punk'n'roll at Makhno, L'Usine, Geneva
2014
THE PARANORMALS AT THE SKATEPARK, Plainpalais Skateboard Contest, Geneva
2012
FORZA!, DJ gig with Music for the Space, CSA Baraonda, Milano
2011
LEATHERETTE, various DJ gigs with Music for the Space
GET PSYCHED!, DJ set and performance by The Paranormals, The Spook House, Berlin
2010
BUMFUCK, DJ set & VT with Demetravox at L'Usine, Geneva
2009
IN THE HOUSE, cyber-radio broadcasting from different DJ appartments, Geneva
IRRITAINMENT, noisy DJ set at Centre d'Art Contemporain, La Buvette, curated by Frederic Post, Geneva
2008
THE SISTERS WITHOUT MERCY, DJ set with Water Lilly at Alhambar, Geneva
LE SPECTRARIUM, after-show Ghost air-gig, Pavillon Le Corbusier, Paris
TRICK OR TREAT, Zombie Rock gig at "Eglise des Pâquis", featuring The Living Dead Boys, Geneva
ARM-WRESTLING NIGHT, curated and co-produced by Klat @ Shark, Geneva
SHAKE YOUR BONES, Euro Mongo Label Night with The Living Dead Boys, Piping Club, Geneva
TOXIC MONDAY, Dj Sid and Polly Tox, punkrock Monday at L'Aiglon, Geneva
THE PARANORMALS PLAY RIOT SOUND, 1st of May at Moebel Olfe, Berlin
2007
WASTED AND PROUD, DJing performance in hairy outfits by M. Mousset, Viva Dolor Gallery, Lyon
THE SISTERS WITHOUT MERCY, DJ set with Water Lilly at Acceleration-aftershow, Serrières Karting, Neuchâtel
BOTTOMS UP, hairy- DJing performance in hairy outfits by M. Mousset, aftershow at Le Bourg, curated by Circuit, Lausanne
2006
THE PARANORMALS, Ghost DJ performances in many european clubs with Dj Lemercier
THAT GIRL, underwater DJ set at the Dom Liquid Sound, Bad Sulza
STUDIO FAVELA, The Paranormals and The Living Dead Boys at Golden Gate, Berlin
2005
HAPPY 4703!, party launched by the artist, promoting dancefloor irrit-tainment, with Namosh, Snax, Mooner, Krylon Superstar and Plastique de Rêve, Das Moskau, Berlin
FLAW TO FIZZ, electro-voodoo performances and record release in Europe with DJ Lemercier
THAT GIRL IN BANGKOK, DJ set at the Ice-Age opening, Bangkok
2004
THE SHOW MUST GO HOME, homestudio quest-broadcasting through Internet radios
I LOVE MP3, iPod performances and sonic homemade objects, Best Concept-store, Berlin
2003
ARM WRESTLING NIGHT, public performances and DJ madness launched by the artist, White Trash Berlin
LACK OF EVIDENCE, presentation of the short movie from the artist and party, Berlin
IMBISS APOCALYPSO, performances and DJ contest launched by the artist, White Trash, Berlin
2002
BACKSTAGE ON FIRE, all night performance, sound, videos & cookies, Berlin
JAEGERMASTERZ, "Erkrankung durch Musique" birthday-night, invited by Mooner, Pathos, Munich
B.T.I.I. (Berlin Tourist Information International), sonic stewardess service, performing through the city in a special sonic vehicle, Cookies Club, Berlin
2001
WE ARE THE CAMO, wireless headphones party, Bout du Monde, Geneva
TO THE BONE, electro madness at Manoir de Haute-Roche with the Viewlexx DJ team
EURO MONGO ALL STARS, special events and electro-punk label, www.euromongo.com
KRANK IS BEAUTIFUL, a night of electro madness launched by the artist, featuring Sylvester Boy and Herr Mooner, Usine Kugler, Geneva
KKKRRVVVRRBBRRGGH, DJ set in disguise, for KLAT, L'Usine, Geneva
2000
BRING THE NOISE, low tech live-act, Atelier genevois de gravure contemporaine, Geneva
PRAISE THE BOUNCER, a night launched by the artist in collaboration with The Horrorist and 'things to come', New-York, live-acts, Circuit, Lausanne
YOU WIN !, competition and lottery with Dj Luciano and Crowdpleaser, MAMCO, Geneva
1999
FAN CLUB ORCHESTRA, Nintendo Gameboys live-act, ZAC 99, ARC, Musée d'Art Moderne, Paris
FREE SAMPLE DEMIX, live-act invited by M. Laurette, Festival Nouvelles Scènes, Dijon
PLASTIQUE DE REVE, live electronic music and toy computers, Game Over @ Substrat, Rohstofflager, Zurich
ULTRA-VIOLET INVISIBLE GRAFFITIS, cycle of vandalism performances, Geneva
1998
N20, laughing gas night, Geneva
I WILL SING FOR YOU, live-act with Nintendo Gameboy and musical greeting cards, Liste 98, Basel
SOUND OF THE SYSTEM, sonic limousine performing in the city, curated by FCDAV, Geneva
TUNE OUT TURN OFF DROP IN, acid test party and special blotter annual edition launched by the artist, Atelier genevois de gravure contemporaine, curated by V. Bacchetta, Geneva
1997
KISAG CONVENTION, laughing gas party launched by the artist, Geneva
---
ARTWORKS
LIBERTAS LIBERTAS, UNRELEASED, BONFIRE OF POVERTY, MAXIMA LVX, SERVEZ-VOUS, PA-PA-PAP-PAP, DIE UNKRAUT BOTSCHAFT, THIS IS NOT A LOVE SONG, ANTI, YOUTRIBE, YOU WIN, COUNTERFEIT FOR PAGANS, GOLDEN SHOWER, ARMAGEDDON, PIMP MY RIDE, XXX, SAFT, HAPPY MONDAY, ALIEN NATION, ERRATUM, DOMINUS PROVIDEBIT, HOW TO BUILD AN EMPIRE, BORDERLINE, PICKPOCKETS, ARM WRESTLING, INFINITY, FORTUNA, SOUND OF THE SYSTEM, GENERATION X, OIL OIL OIL, TMF STATIONERY, IN LOVING MEMORY, NUMBER OF THE BEAST, I WALK THE LINE, THE PARANORMALS, CAMO SOUND, 15 MINUTES OF SHAME, HUMAN RIGHTS KARAOKE, LOVE IT